October 27, 2017
Conductor Steven Richman and Harmonie Ensemble/New York's 14th CD to be released on Bridge Records!
"TOSCANINI 150th ANNIVERSARY TRIBUTE"
Bridge Records 9493
The recording includes Toscanini's arrangements of the Bizet Carmen Suite and Waldteufel's Skaters Waltz (which until now, had only been recorded by Toscanini), as well as Verdi's Overture to Aida, Tchaikovsky's Nutcracker Suite, and Rossini's William Tell Overture. Liner notes by acclaimed writer/music historian Harvey Sachs.





Released August 26, 2016!
Gershwin:
American in Paris,
Concerto in F;
2 premieres:
Three Preludes
(arr. Roy Bargy),
Overture to "Of Thee I Sing" (1934 radio version)
STEVEN RICHMAN, conductor
Lincoln Mayorga, piano
Harmonie Ensemble/New York

"(a) brilliant new Gershwin CD by Steven Richman and his orchestra of virtuoso instrumentalists, Harmonie Ensemble/New York. Lincoln Mayorga plays it straight in a performance of the Concerto in F without gimmick or pretense. But the centerpiece of the program is "An American in Paris," a lithe, translucently colorful performance that combines power and grace. Sassy, in your face and vigorously rhythmical, Gershwin has never sounded better."

THE WASHINGTON POST

"A God-sent exciting birth of an album for Gershwin fans!...as beautiful as one could hope for."

King Records, Japan

"Both American in Paris and the Concerto in F get their best recordings herewith."

Audiophile Audition

No. 9 on BILLBOARD'S TRADITIONAL CLASSICAL CHART!

THE REAL GEORGE GERSHWIN!
"Gershwin expert Steven Richman approaches Gershwin's music the way he composed it. This sounds at first perhaps unusual because it is without sugary icing, but the brilliant 'in between' brings Gershwin's genius out. Melodies and drive abound - which makes the sound of his music so fascinating. The musicians of the Harmonie Ensemble / New York are brilliant. Ease, swing, and lightning fast dynamic changes dominate their musical interpretation. (A) delightful Gershwin CD. With this new presentation you must confidently rethink your Gershwin discography."

Radio Klassik Stephansdom, Vienna

"Steven Richman is to Gershwin as Charles Mackerras was to Janáček. For years he has tirelessly worked to free the composer's scores from accumulated bad habits and spurious editing in pursuit of authenticity and musical sense...(a) vivacious and deliciously characterised reading of An American in Paris. The Concerto in F...so fresh, so idiomatic and so rhythmically alive...no Gershwin fan should miss this disc."

Gramophone

"I am truly loving the Gershwin disc. Great, great work."

Michael Feinstein

Performance *****
Recording *****
"Hugely enjoyable! An equally successful account of the Rhapsody's full-scale successor...nimble and neatly phrased, rhythmically tight and full of character."

BBC Music Magazine

"Distinctive style...(a) decidedly non-mainstream approach. Gershwin with a breath of fresh air, light, dry, nothing hammy or the slightest bit overdone. But in what amounts to Gershwin with period flavour, the real surprise is An American in Paris, without the treacle."

The Irish Times

"Orchestra leader Steven Richman is a cat you don't mess with when it comes to Gershwin as he's been the leading light in Tony presentations of the master for the last three decades...this is smoking hot...focal points of American music from when music was music...loaded with pure enjoyment...Gershwin will live on for a few more generations when in hands like this. Killer stuff throughout."

Midwest Record Review

"Great! Wonderful performance, really stunning. Loved the recordings of the Rhapsody and Piano Concerto in F. Enjoyed the listening experience so very, very much. Congratulations! Wonderful! You're a bright light in a somewhat dim musical world."

Ferde Grofé, Jr.

Avrotros Netherlands CD OF THE WEEK

"All the works come alive in glowingly fresh and vital performances."

Martin Bookspan

*****Five Stars
"Perfection and by far THE recording of these great pieces to own...such a magnificent pianist that it would be difficult to imagine anyone else interpreting this work better."

Amazon.com

"...conductor Steven Richman, whose work with the Harmonie Ensemble/New York…they seek to redress the decades of well-meaning but wrong-headed reinterpretations of classic scores...Gershwin's road to respect remains impeded by "improvements". "Of Thee I Sing" overture...a well-chosen excellently played entry into the sound of this material: vibrant, jazzy, unburdened by too many strings. This recording...also redresses the wrongs done to "An American in Paris," both by restoring the composer's original score and by bringing it in at a tempo that suits its nervous energy. It's a work that bears close attention when performed like this, because it reminds us that Gershwin's genius went far beyond his wellspring of catchy tunes. Get the first two Mayorga-Richman harmonia mundi CDs, and then complete your collection."

Byron Nilsson, Words and Music Blogspot

"...resolutely faithful to the iconic American composer's original intentions, producing unfiltered, pure renditions of some of his greatest works...new freshness...astonishing"

Winnipeg Free Press





Gershwin: By Grofé / Mancini: Music For Peter Gunn
Steven Richman, conductor
Harmonie Ensemble New York
Harmonia Mundi 2 CD set released 2/16

"...a fabulous 2-cd set of music by Gershwin and Mancini. The Steve Richman Harmonie Ensemble New York dishes up some witty and beautifully produced music of these two great composers. The Gershwin/Grofé is totally fun to hear, and the Mancini disc is absolutely wonderful. Absolutely fantastic!"

Tom Schnabel, KCRW Los Angeles

CHOC DE CLASSICA MAGAZINE AWARDS (FRANCE)
(March 2016 issue)





The Grammy Award-nominated conductor Steven Richman and Harmonie Ensemble/New York hold a special place in the international music world. The Ensemble is known for its distinctive and widely varied programming of classical music and jazz, and for exciting performances and recordings favored with extraordinary critical acclaim.

Mr. Richman, the group's founder, conductor and music director, delights in uncovering musical rarities. The Ensemble has played or recorded premieres of little or unknown works by Stravinsky, Gershwin, Grofé, Dvorák, Harry Burleigh (Dvorák's assistant), Handel, Shostakovich, Nino Rota, Brahms, Mussorgsky, Copland, Gil Evans, Duke Ellington, Billy Strayhorn, and Henry Mancini, as well as the standard chamber and orchestral repertoire.

Harmonie Ensemble/New York has performed many historic and unique concert events in major halls and venues in New York and throughout the United States. Its fourteen CDs have received international praise and numerous awards, including a Grammy Award nomination.

Join us and explore the exciting and colorful world of Harmonie Ensemble/New York.


Several of HE/NY's most unique events have taken place at St. Peter's ("The Jazz Church"), NYC. Steven Richman conducted the Duke Ellington arrangements of Tchaikovsky's Nutcracker Suite and Grieg's Peer Gynt Suite, the Miles Davis/Gil Evans masterpiece Sketches of Spain (with renowned jazz trumpeter Lew Soloff), as well as Henry Mancini's original groundbreaking jazz score for the classic TV show "Peter Gunn".
READ MORE >>



American Record Guide
(read full review)
Copland: Rarities and Masterpieces

"A stunning album. The best recorded piano sound that I've ever heard. The stellar playing is smooth and warm, pungent and edgy, and rhythmically hot...this is the best performance of (Music for the Theatre) I've ever heard, recorded or in concert. (In Appalachian Spring) Richman's brilliance as a conductor becomes crystal-clear...it's so alive, it'd quicken the dead. In every way, an extraordinary album filled with discoveries."

(read full review)







"It takes a long time to become young." — Picasso

Igor Stravinsky, in reply to a British journalist's question:
"Is it more difficult to compose in old age?"

Stravinsky: "For you, I am in 'old age'. For me, I am not in 'old age', I am continuing to live. Is it my fault I have lived 83 years?"




Contact HE/NY at info@harmonieensembleny.com
or 212-222-6684, if you are interested in
engaging Mr. Richman and/or the Ensemble in any of its forms for your venue or special event.
Harmonie Ensemble/New York has received generous support for its activities from the following funders:
The New York State Council on the Arts (a state agency); the New York City Department of Cultural Affairs; the New York City Council (DYCD); Manhattan Borough President's Office, New York City; the Alice Tully Foundation; the Ann and Gordon Getty Foundation; the Mary Duke Biddle Foundation; the Ira and Leonore Gershwin Philanthropic Fund; the Society for American Music Sight and Sound Fund; Consolidated Edison; the Music Performance Funds; and individual contributions.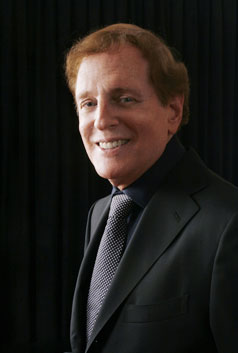 Conductor STEVEN RICHMAN


2017 EVENTS

Weds., Sept. 20, 2017 @ 1:00 pm
CLAUDE THORNHILL &
ELLINGTON BANDS
DO THE CLASSICS (& more!):
Tchaikovsky, Brahms, Grieg,
Dizzy Gillespie, Kurt Weill,
Cole Porter.
St. Peter's ("The Jazz Church"),
54th St. & Lexington Ave. , NYC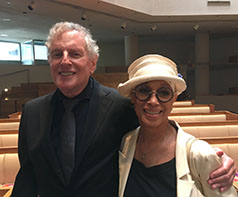 Maestro Richman with Mercedes Ellington, granddaughter of Duke Ellington, following the Sept. 20, 2017 concert at St. Peter's Church

Thurs., Sept. 14, 2017 @ 3 pm
HARMONIE STRING QUARTET at
Carnegie East House,
1844 Second Ave.,
between 95th & 96th Sts.

Sunday, March 26, 2017, at 3 pm
HARRY BURLEIGH 150TH ANNIVERSARY CONCERT
Music by Burleigh (Dvořák's assistant) and DVOŘÁK
Kurt Nikkanen, violin
(concertmaster, NYC Ballet)
Edward Pleasant, baritone
Lincoln Mayorga, piano
Burleigh: From the Southland, Southland Sketches,
Spirituals, art songs;
Dvořák: Sonatina
JCC Manhattan 76th St. &
Amsterdam Avenue
$30 ($15 seniors and students)
at the door
info@harmonieensembleny.com
212-222-6684

2016 EVENTS

Steven Richman appeared on the HBO TV Series, VINYL, as conductor with Broadway star Matt Bogart, appearing as Robert Goulet.

Weds., June 8 at 1 pm
TOSHIKO AKIYOSHI QUARTET
featuring LEW TABACKIN, tenor sax
Midday Jazz at Midtown
St. Peter's Church, 54th St. and Lexington Ave., NYC

Weds., Sept. 14 at 1:30 pm
HARMONIE STRING QUARTET
Goddard Riverside Center
88th St. and Columbus Ave., NYC

Aug. 26, 2016: NEW GERSHWIN CD RELEASE including Concerto in F (Lincoln Mayorga, pianist), American in Paris, 2 recording premieres: Overture to "Of Thee I Sing" (radio version), and Three Preludes (arr. Bargy) on Harmonia Mundi label worldwide.

RECENT NEWS

Gershwin: Rhapsody in Blue
PREFERRED RECORDING
RTSR Suisse Romande Radio, Switzerland, May, 2015

RECENT EVENTS

ORCHESTRA CONCERT
THREE OPERAS & A WALTZ
FOR ORCHESTRA
Saturday, March 21, 2015 at 4 pm
DiMenna Center for Classical Music
450 W. 37th St., (10th Ave.)
New York City
Verdi: Aïda Overture
Bizet: Carmen Suite (arr. Toscanini)
Waldteufel: Skaters Waltz
(arr. Toscanini)
Rossini: William Tell Overture
Tickets: $30 (seniors & students $15) at the door.
Information: 212-222-6684

Henry Mancini's original
MUSIC FROM PETER GUNN
Released August, 2014 on
Harmonia Mundi worldwide.
First recording since Mancini's
in 1958.



Click here for photos from the
Peter Gunn Concert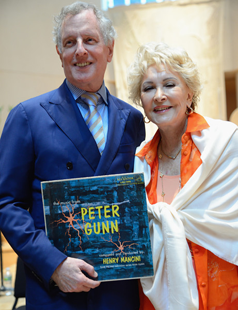 Ginny Mancini, wife of the composer, and Steven Richman
Photo by Joe Josephs



PRAISE FOR
HARMONIE ENSEMBLE/
NEW YORK

GERSHWIN BY GROFÉ CD:
"THE RHAPSODY, 'I GOT RHYTHM VARIATIONS'...IS THE BEST OF THE BEST. SO FRESH AND ALIVE!"


MICHAEL FEINSTEIN



"...THE BEST BIG BAND IN HISTORY!" (Ellington: Nutcracker Suite)


Soundstage Xperience



"Delightful and ear-opening..."


David Hurwitz,
Classicstoday.com



"Excellent, fascinating...clever, well played"


Lloyd Schwartz,
Fresh Air, National Public Radio





To be notified when concerts are scheduled, or new CDs are released, please email us to be added to our mailing list.

To make a tax-deductible contribution to Harmonie Ensemble/New York, (a 501(c)(3) not-for-profit corporation), please make checks payable to Harmonie Ensemble, Inc., and send to:

Harmonie Ensemble/New York
820 West End Ave.
Suite 13B
New York, NY 10025