Since 1990, HE/NY, under conductor/music director Steven Richman, has released fifteen acclaimed CDs to extraordinary international critical response. The recordings have been issued by Harmonia Mundi [PIAS], Bridge Records, Koch International Classics, Music & Arts Programs of America, and Sheffield Lab. These exciting and historic documents encompass a wide repertoire, including many recording and CD premieres, newly discovered neglected works by well-known composers, and timeless classics in rare original or definitive reference versions.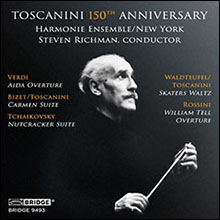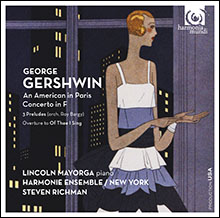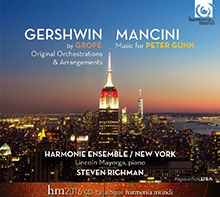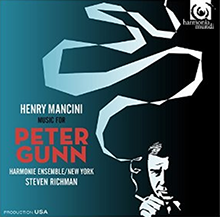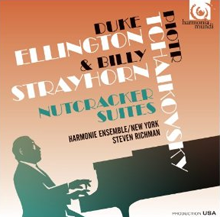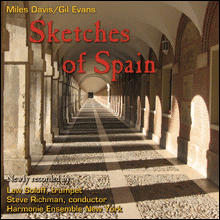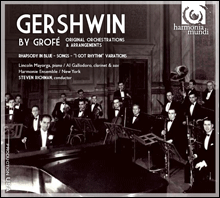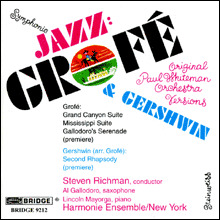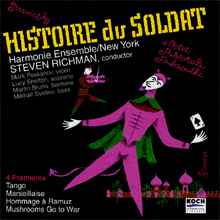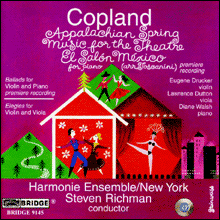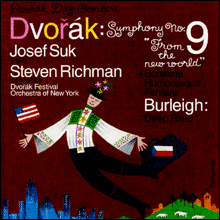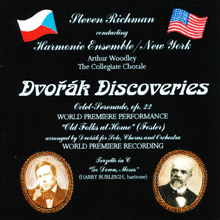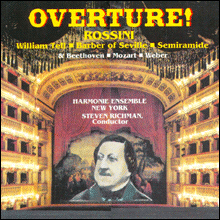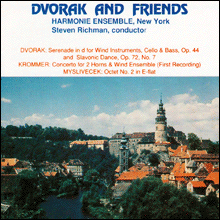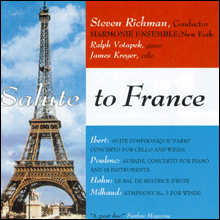 About Alex Steinweiss
The Ensemble's Stravinsky, Copland, Symphonic Jazz and Dvorák Day CDs have been enhanced by covers designed by Alex Steinweiss. Steinweiss "invented" the LP record jacket and illustrated album cover, designing over 2000 classic record jackets as Art Director for Columbia Records, and for the Decca, London, and Everest labels.



(Toscanini 150th Anniversary Tribute) "Richman and the Harmonie Ensemble/New York do excellent work here...a superb CD that keeps this needed tribute varied, and keeps the great conductor's name alive."
B.A. Nilsson, Words and Music

"Both American in Paris and the Concerto in F get their best recordings herewith."
Audiophile Audition

"The Rhapsody, 'I Got Rhythm Variations'...is the best of the best. So fresh and alive!"
Michael Feinstein

(Rhapsody in Blue) "I believe is a definitive version of the piece"
The Absolute Sound

"One of the two or three best performances of the 'New World' Symphony I have ever heard."
Martin Bookspan, "The Voice of the New York Philharmonic"

"My family and I think your performance of the 'New World' Symphony was perfect."
Markéta Dvorákova, great-great-granddaughter of Antonín Dvorák

"Wonderful...Steven Richman's New World Symphony performance was fantastic, really one of the best!"
Violinist JOSEF SUK, Dvorák's great-grandson

"The best performance of the Poulenc (Aubade) I have ever heard, including Poulenc's."
C.J. Luten, Opera News

"A reference recording of the Appalachian Spring Suite in its original chamber version."
HI FI+

(Copland: Appalachian Spring) "This recording goes straight to the top of the list! Fantastic!"
Classicstoday.com

"The best Handel performance I have ever heard, or could imagine."
Manager John Gingrich

(Copland: Music for the Theatre) "The best performance I have ever heard, recorded or in concert."
American Record Guide

(Grofé: Grand Canyon Suite) "Flawless...extraordinary, a milestone"
Ferde Grofé, Jr.

Symphonic Jazz: Grofé and Gershwin "The best CD I have heard this millennium!"
Cannabis Times, London

(Stravinsky: Histoire du Soldat) "No one has done it better"
IClassics.com

"The best Dvorák Wind Serenade I have ever heard."
Music Choice

"Beyond praise" (Dvorák Wind Serenade)
Gramophone

Dvorák Octet-Serenade
New York Times Dvorák Centennial Favorite CDs

Overtures for Classical Wind Ensemble (Rossini, Mozart, Beethoven, Weber)
"Perfect, simply superb".
Fanfare





October 27, 2017
Conductor Steven Richman and Harmonie Ensemble/New York's 14th CD released on Bridge Records!
"TOSCANINI 150th ANNIVERSARY TRIBUTE"
Bridge Records 9493
Verdi: Aida Overture
Bizet/Toscanini: Carmen Suite
Waldteufel/Toscanini: Skaters Waltz
Tchaikovsky: Nutcracker Suite
Rossini: William Tell Overture

The recording includes Toscanini's arrangements of the Bizet Carmen Suite and Waldteufel's Skaters Waltz (which until now, had only been recorded by Toscanini), as well as Verdi's rare Overture to Aida, Tchaikovsky's Nutcracker Suite, and Rossini's William Tell Overture. Maestro Richman used one of Toscanini's batons, which he purchased at auction, for this recording! Liner notes by acclaimed writer/music historian Harvey Sachs.

"Thrilling! You bring something to music that few conductors do anymore — urgency. There's a sense of purpose to every phrase and every choice of tempo, balance, and color...such vibrant music-making. Bravo!"
Donald Rosenberg, Former President, Music Critics Association of North America

*****FIVE STARS "The performances are so direct and so straightforward that the music actually appears fresh and new. And the sound is so good and so natural, it puts most other recordings to shame. A commendable disc all the way around."
Classical Candor

"Wonderful, incisive, lively conducting, inspired by the maestro's baton, no doubt! The woodwinds were especially vivacious, propelling textures forward joyously. A winner—one of this fine ensemble's best recordings!"
Sedgwick Clark, editor, Musical America

"Terrific, Love it!"
Martin Bookspan, announcer for the NY Philharmonic; video release of the Toscanini NBC Symphony Television Concerts

"I listened to the CD — it sounds beautiful! Congratulations!!!!!"
Harvey Sachs, author of Toscanini: Musician of Conscience

Arthur Fierro, producer of Toscanini reissues, has written: "The selections on your CD constitute a wonderful birthday tribute for the Maestro. Congratulations!"

"The record is fantastic in all regards: ensemble, tempi, interpretation, quality of sound/playing-the whole ball of wax! I'm very proud to have been a part of it!!"
Randall Ellis, oboist

"Bravo! Quite exciting. Well played. Well done!"
Allan Steckler, producer of Toscanini reissues, Vladimir Horowitz, Juilliard String Quartet





Released August 26, 2016!
Gershwin:
American in Paris,
Concerto in F;
2 premieres:
Three Preludes
(arr. Roy Bargy),
Overture to "Of Thee I Sing" (1934 radio version)
STEVEN RICHMAN, conductor
Lincoln Mayorga, piano
Harmonie Ensemble/New York

"A God-sent exciting birth of an album for Gershwin fans!...as beautiful as one could hope for."

King Records, Japan

"Both American in Paris and the Concerto in F get their best recordings herewith."

Audiophile Audition

No. 9 on BILLBOARD'S TRADITIONAL CLASSICAL CHART!

THE REAL GEORGE GERSHWIN!
"Gershwin expert Steven Richman approaches Gershwin's music the way he composed it. This sounds at first perhaps unusual because it is without sugary icing, but the brilliant 'in between' brings Gershwin's genius out. Melodies and drive abound - which makes the sound of his music so fascinating. The musicians of the Harmonie Ensemble / New York are brilliant. Ease, swing, and lightning fast dynamic changes dominate their musical interpretation. (A) delightful Gershwin CD. With this new presentation you must confidently rethink your Gershwin discography."

Radio Klassik Stephansdom, Vienna

"Steven Richman is to Gershwin as Charles Mackerras was to Janáček. For years he has tirelessly worked to free the composer's scores from accumulated bad habits and spurious editing in pursuit of authenticity and musical sense...(a) vivacious and deliciously characterised reading of An American in Paris. The Concerto in F...so fresh, so idiomatic and so rhythmically alive...no Gershwin fan should miss this disc."

Gramophone

"I am truly loving the Gershwin disc. Great, great work."

Michael Feinstein

Performance *****
Recording *****
"Hugely enjoyable! An equally successful account of the Rhapsody's full-scale successor...nimble and neatly phrased, rhythmically tight and full of character."

BBC Music Magazine

"Distinctive style...(a) decidedly non-mainstream approach. Gershwin with a breath of fresh air, light, dry, nothing hammy or the slightest bit overdone. But in what amounts to Gershwin with period flavour, the real surprise is An American in Paris, without the treacle."

The Irish Times

"Orchestra leader Steven Richman is a cat you don't mess with when it comes to Gershwin as he's been the leading light in Tony presentations of the master for the last three decades...this is smoking hot...focal points of American music from when music was music...loaded with pure enjoyment...Gershwin will live on for a few more generations when in hands like this. Killer stuff throughout."

Midwest Record Review

"Great! Wonderful performance, really stunning. Loved the recordings of the Rhapsody and Piano Concerto in F. Enjoyed the listening experience so very, very much. Congratulations! Wonderful! You're a bright light in a somewhat dim musical world."

Ferde Grofé, Jr.

Avrotros Netherlands CD OF THE WEEK

"All the works come alive in glowingly fresh and vital performances."

Martin Bookspan

*****Five Stars
"Perfection and by far THE recording of these great pieces to own...such a magnificent pianist that it would be difficult to imagine anyone else interpreting this work better."

Amazon.com

"...conductor Steven Richman, whose work with the Harmonie Ensemble/New York…they seek to redress the decades of well-meaning but wrong-headed reinterpretations of classic scores...Gershwin's road to respect remains impeded by "improvements". "Of Thee I Sing" overture...a well-chosen excellently played entry into the sound of this material: vibrant, jazzy, unburdened by too many strings. This recording...also redresses the wrongs done to "An American in Paris," both by restoring the composer's original score and by bringing it in at a tempo that suits its nervous energy. It's a work that bears close attention when performed like this, because it reminds us that Gershwin's genius went far beyond his wellspring of catchy tunes. Get the first two Mayorga-Richman harmonia mundi CDs, and then complete your collection."

Byron Nilsson, Words and Music Blogspot

"...resolutely faithful to the iconic American composer's original intentions, producing unfiltered, pure renditions of some of his greatest works...new freshness...astonishing"

Winnipeg Free Press





Gershwin: By Grofé / Mancini: Music For Peter Gunn
Steven Richman, conductor
Harmonie Ensemble New York
Harmonia Mundi 2 CD set released 2/16

"...a fabulous 2-cd set of music by Gershwin and Mancini. The Steve Richman Harmonie Ensemble New York dishes up some witty and beautifully produced music of these two great composers. The Gershwin/Grofé is totally fun to hear, and the Mancini disc is absolutely wonderful. Absolutely fantastic!"

Tom Schnabel, KCRW Los Angeles

CHOC DE CLASSICA MAGAZINE AWARDS (FRANCE)
(March 2016 issue)





Harmonie Ensemble/New York Plays Henry Mancini's Groundbreaking Score From
Peter Gunn
Harmonia Mundi HMU 907624

AUDIOPHILE AUDITION by Stephen Hornbrook

(Steven Richman, conductor; Lew Soloff, Dominic Derasse, Joe Giorgianni, and Stanton Davis, trumpets; Mark Gross and Lawrence Feldman, alto sax & alto flute; Lew Tabackin and Lino Gomez, tenor sax & alto flute; Ronnie Cuber, baritone sax; Larry Farrell, John Fedchock, Mark Patterson, and Frank Cohen, trombones; R.J. Kelly, Alexandra Cook, Eric Davis, and David Peel, French horns; Bob Mann, guitar; Christos Rafalides, vibes; Lincoln Mayorga, piano; Francois Moutin, bass; Victor Lewis, drums)

Mancini, who died in 1994, was a prolific Hollywood TV and movie composer, perhaps best known for the Peter Gunn TV series which ran for three seasons, as well as the features Breakfast at Tiffany's, Charade, and the Pink Panther series. Steven Richman has previously done a series of albums devoted to The Nutcracker, Gershwin, Grofe and Paul Whiteman, and he shows first rate musicianship in mixing classical, jazz and pop in all of them. As you can see from the lineup of players above, he put aside his usual Harmonie Ensemble musicians for some of the top jazz players in the business for this project. (Pianist Lincoln Mayorga is also known for straddling the classical and jazz worlds.)

This is mostly West Coast-style cool jazz, and both instrumentally and soundwise a cut above the jazz quintet heard at Mother's on the original Peter Gunn series and the double-CD set of all of Mancini's music for the series. But the orchestrations preserve the sound of the originals and are really a kick. Some retro stuff that's coming out lately can be a bore, but this CD is just the thing for today's listeners.

5 STARS
— Critical Jazz

"...splendidly performed by the Harmonie Ensemble/New York directed by Steven Richman. A perceptive and well-recorded album...superb."
— All About Jazz

"It's time we recognize Hank Mancini's 'Peter Gunn' as contemporary, American classical music...Richman and the Harmonie Ensemble/New York are just the cats to do it...This is ground breaking jazz that never outdated itself. Hats off maestro!"
— MidwestRecord.com

On August 12, 2014, GRAMMY-nominated conductor Steven Richman and the Harmonie Ensemble/New York released Music for Peter Gunn, placing their own stamp on the show's trendsetting score written by Henry Mancini. The classic TV detective series, which ran from 1958 to 1961, is probably best remembered today for its music, which was inspired by the West Coast Cool jazz style.

The Emmy-winning score - and its double GRAMMY-awarded album - was performed by an all-star ensemble of some of the West Coast jazz scene's finest musicians. Now, for the first time in more than half a century, the Harmonie Ensemble/New York, joined by ace old-school improvisers Lew Soloff and Lew Tabackin, takes a new look at this iconic music on this new harmonia mundi release.

Music for Peter Gunn follows in the footsteps of Richman's and Harmonie Ensemble/New York's previous bestselling releases Gershwin by Grofé (which landed on the Billboard charts in the top ten) and Ellington/Tchaikovsky Nutcracker Suites.

Richman writes, "I grew up watching and listening to that great TV show. Everyone knows the Peter Gunn theme but far fewer seem to know there is about an hour and a half of gorgeous music recycled in various forms throughout the show's three seasons. Even our musicians were in the dark about this. They were happily surprised at the wonderful music, so skillfully written and arranged. We were all thrilled to play it."





The Two Nutcracker Suites:
Tchaikovsky and Duke Ellington/Billy Strayhorn
Classical and Jazz/ released October 8, 2013 on
Harmonia Mundi worldwide

"...THE BEST BIG BAND IN HISTORY!"
(Ellington: Nutcracker Suite)
—Soundstage Xperience

"Steven Richman and Harmonie Ensemble/New York have a ball, and their commendably sassy rendering is preceded by a similarly buoyant and highly personable account of the original concert suite...[a] brilliantly stimulating pairing which is guaranteed to provide heaps of enjoyment."
—Gramophone

BEST ARRANGEMENT XMAS 2013 "A fresh new recording which enterprisingly couples [the Ellington/Strayhorn] with a performance of Tchaikovsky's original suite."
—BBC Music Magazine

"...this recreation actually sounds Ellingtonian. By some miracle of osmosis, this band—with very different personnel—actually sounds eerily like the original. These soloists sound more like the real Ellington band than the "ghost band" led for many years by Duke's son Mercer. The Tchaikovsky original...it too is a splendid performance, one of the finest recordings of the Suite I've ever heard. As a fascinating juxtaposition, as well as individual performances of the two versions, however, it works beautifully."
—Fanfare

"It was a great idea to pair the two suites and the execution and recorded sound of this Harmonia Mundi CD have partnered to make it an indispensable holiday treat. An excellent new rendition in superb sound, and what a stroke of genius to pair it with Tchaikovsky's original. Steven Richman and the Harmonie Ensemble/New York seem the perfect artists to realize both suites as they have often performed concerts that have bridged classical and jazz. Their performance of the original suite is bright and upbeat. The performance of the Ellington-Strayhorn suite is suave and saucy with the players sounding like the best big band in history. In both ensemble and solo work, they cover themselves in glory. Lew Tabackin (tenor sax), Lew Soloff (trumpet), Bill Easley (clarinet), Victor Lewis (drums), and George Cables (piano) all make significant solo statements. So as far as I'm concerned, it's impossible to fault this performance. The recorded sound is also a star, making everything clean and clear with nearly ideal balances throughout. It's one of the most natural big-band recordings I have ever heard, with little evidence of postproduction mixing.
—Soundstage Xperience

Editor's Corner:
"Rarely has there been such a successful fusion of traditional classical music and big band jazz."
—The Whole Note

"The soloists are on fire, and Richman again proves his mettle as a bandleader... Hats off to Richman for breathing new life into this terrific arrangement."
—The Absolute Sound

"...a wonderful CD."
—Seattle Post-Intelligencer

"The Harmonie Ensemble/New York play with refinement, style, and élan. You'd be hard pressed to find a better reading of the Nutcracker Suite than the one you find here. It's not only colorful and exciting, it sounds as precisely articulated as any you'll come across...(in the Ellington/Strayhorn) the whole ensemble swings."
—Classical Candor

"Richman elicits enthralling music from the large ensemble...be thankful for this Nutcracker."
—Downbeat

"It's very good on both counts. The classical, original orchestral version is performed with plenty of spirit and pep, as good a version as you'd ask for. And the Ellington/Strayhorn version has an authentic ring to it. The band and soloists are totally into the late '50s Duke style and give it all they've got."
—Gapplegate Classical-Modern Music Review





Miles Davis/Gil Evans'
SKETCHES OF SPAIN

Newly recorded by
LEW SOLOFF, trumpet
STEVE RICHMAN, conductor
Harmonie Ensemble/New York
Sheffield Lab 10089

Steven Richman and Harmonie Ensemble/New York featured in JazzSaints blog - Click here >>>


"Incredibly it's an improvement on the original with more polished ensemble playing and better sound balance. The bass work is particularly effective and Lew Soloff does an amazing job of channeling Miles Davis' distinctive style. In fact much of Miles' work on Sketches was written out for him by Gil Evans, even though it sounds improvised. Contrary to what some reviews have said Steven Richman follows the original arrangements to the letter with the same number of instruments (not fewer). It is evident from Steve's other recordings of Copland, Dvorák and Stravinsky with his Harmonie Ensemble/New York that he is right at home in the worlds of jazz and classics, proving in a way that these are artificial categories and that he knows good music when he hears it."

Michael Gilchrist, Australia
Read the entire review at Amazon.com >>>

"While remakes of classic old tunes (never mind classic old albums) are never high on my list, this one makes the grade and in fact may even improve on the original. Steve Richman details his family connection to the original Sketches of Spain album in the notes and recreating it was clearly a labor of love for him. Possessing a much more impressive technique than did Miles at the time of the original recording, Soloff is more free in places and paints where sometimes Davis sketched. The orchestral parts are impeccably realized..."

International Association of
Jazz Record Collectors Journal

Best CD of 2010

Jazz Times, Owen Cordle

NO. 19 OF TOP 50 RECOMMENDED CDS
"Soloff and Richman have produced a worthy successor...created a great record...a top-quality recording. Soloff's playing is uniformly outstanding-confident, precise, but emotionally involving...with great delicacy and the Harmonie Ensemble/New York's own playing is beautifully sympathetic. Great musicians, superb sound quality, and...a soloist in terrific form. By any standard, this is an album of the highest quality."

Bruce Lindsay, All About Jazz

The Village Voice Jazz Critics Poll 2010

"Fifty years from its original album release, Gil Evans and Miles Davis' Sketches of Spain collaboration remains one of the landmark recordings in the jazz canon. In these days of jazz repertory it is ripe for re-examination, with Steve Richman's Harmonie Ensemble/New York and trumpeter Lew Soloff well suited to the task. Soloff and the ensemble revitalize Sketches with a reverence appropriate to Davis and Evans' legendary stature, with Soloff adding new depth to Davis' solo lines and Evans' writing emerging in greater detail under Richman's baton (as noted in the liners by veteran Davis producer George Avakian). Evans had actually written out several segments of what have long been considered Davis' improvisations; Soloff plays these notated solos faithfully, sometimes sounding just like Davis. Elsewhere, Soloff merely suggests Davis' phraseology in his own virtuosic improvisations to put a personal stamp on the piece. Bassist Francois Moutin, filling an important role originally played by Paul Chambers, anchors the groove and lends a swinging jazz underpinning to the largely symphonic sound. Dig how the pristine 21st century sound quality of the disc accentuates the subtle nuances of Evans' sophisticated arrangements."

Ed Enright, DOWNBEAT MAGAZINE

"...will hold you spellbound for the entire 41 minutes, no doubt! Fantastic...you will be entranced...a truly magical experience! I give this my MOST HIGHLY RECOMMENDED rating."

Improvijazzation Nation Magazine

"This is a very significant and audacious disc. Soloff and conductor Steve Richman have fashioned a journey with texture, colour and warmth which evokes a Spain that existed in Evans' musical imagination.The album has been beautifully recorded by Sheffield Lab with great spacing and clearness in the instrumental details, compared to the original Columbia recording done 50 years earlier. Be good to yourself, this disc is a keeper."

Pierre Giroux, Musicweb International (UK)

"Terrific...really wonderful, bravo!"

Martin Bookspan

"Mesmerizing is the word that comes to the fore in describing this new recording of one of the major works in jazz...a very fine recording by the Harmonie Ensemble/New York as conducted by Steve Richman with Lew Soloff. It works so well that this album is destined to become a major success with all lovers of jazz as well as those lovers of classical music who enjoy a new look at the familiar...enhanced by the sensitive interpretations of Steve Richman and his Harmonie Ensemble/New York. The entire orchestra plays with flawless intonation and a clear understanding of the idiosyncrasies that make Spanish music so original. The fine trumpet work by Lew Soloff is as good as it gets. This is a must have collection."

Amazon.com

"Why record a new version of a landmark LP album? Lew Soloff and Steve Richman provide the answer in their new CD, reprising "Sketches of Spain," which has stood for over fifty years as a classic Miles Davis-Gil Evans collaboration. The original version, produced by Teo Macero in the justly fabled Columbia Records 30th Street studio, is still a marvel of interpretation and recorded sound. Now soloist Soloff, who stands alongside Jon Faddis as the finest trumpet player in jazz today, has added new depth to Davis's solo lines, and Evans's writing emerges in still greater detail under Richman's baton."

George Avakian (legendary recording executive who signed Miles Davis for Columbia Records)

"What a magnificent release! This is really an event in jazz, classical, crossover and world music! There is much greater clarity in the instrumental details, with subtle elements of Evans' atmospheric orchestrations coming thru beautifully. All the members of the Harmonie Ensemble play at the very highest levels. This may be one of the most important albums of the year not only in the jazz category but also in world music and crossover."

John Sunier, Publisher/Editor Audiophile Audition

"It's hard to imagine that anyone could have taken on a more structurally challenging project than to update Miles Davis' Sketches Of Spain (Columbia, 1960)—and do it well. Trumpeter Lew Soloff and conductor Steve Richman have not only stepped up to that plate, they have produced a work that breathes new life into the original... a powerful rendition of the original. The point of differentiation between the two versions is in the quality of sound, not necessarily just from an engineering perspective, but from the depth and tonality of the playing. The Soloff—Richman version of Sketches of Spain stands on its own merits as an outstanding work in the niche of symphonic jazz."

Karl Ackermann, All About Jazz

"The old session can sound like a pile-up between band and orchestra. The new version...effect is like taking dirt off a Michelangelo; Evans' work leaps out, and its melancholy Spanish core gets amped up, too. Soloff also adds his own smears and elegant lines to these five tunes. Soloff acquits himself well, and the orchestra sounds a whole lot better."

Karl Stark, Philadelphia Inquirer

"A splendid album! Great care of each detail, a marvelous spirit and expression all along."

Serge Warin, Radio Canal Bleu, France

"Truly a great release."

Jane Weber, EuroRadio Slovenia (A member of European Broadcasting Union)

"A masterful reworking of a jazz classic!"

Alonzo Weston, St. Joseph News-Press, Missouri

"(A) beautiful Sketches of Spain. The music sounds as if it's being created on the spot — incredibly fresh and new — great jazz and a penetrating exploration of Spanish music and conte jondo (flamenco singing)."

Dennis Koster, flamenco guitarist

"Miles Davis and Gil Evans' epochal collaboration has been lovingly recalibrated...right from the first note it's evident that the Harmonie Ensemble of NY are equal to the weight of tradition and jazz iconography. Under Richman's direction, Rodrigo's Concierto de Aranjuez pulls you into a vortex of intensity and alternately soaring and cascading notes (and spaces) that 12 minutes pretty much go by before you even blink. It's a suitably grand start, but this renewal of Sketches doesn't let up. All through the repertoire, the orchestra maintains its commitment to serious, but not stuffy musicianship...you'll want to return."

JazzBus

"Terrific!"

Dan Morgenstern



Gershwin by Grofé: Symphonic Jazz
Original orchestrations and arrangements
Harmonia Mundi 907492

Soloists: Lincoln Mayorga, piano
Al Gallodoro, sax, clarinet, bass clarinet
(Legendary 92-years-young Paul Whiteman Orchestra
soloist 1936-65)

"I Got Rhythm" Variations (original Gershwin orchestration)
Rhapsody in Blue (original "jazz band" version)
Songs: Yankee Doodle Blues (2 versions: one recorded digitally; the second recorded on a wax cylinder on a 1909 Edison Fireside Phonograph!), That Certain Feeling, Somebody Loves Me, Sweet and Low-down, I'll Build a Stairway to Paradise, The Man I Love, Fascinating Rhythm, Summertime.

Available NOW from iTunes, Amazon.com, Arkivmusic.com and many other fine record shops, web stores and digital music providers.


Gershwin: Rhapsody in Blue
PREFERRED RECORDING
RTSR Suisse Romande Radio, Switzerland
May, 2015

ArkivMusic's Record of the Year!

BILLBOARD Top Classical Chart Top 10!

Amazon.com
The Best Classical Music of 2010

Best CDs of 2010 "Never has the celebrated original Rhapsody in Blue appeared so spicy and musically harmonious."

LE MONDE (France)

Recording of the Year!

Musicweb International (UK)

Specialist Classical Chart (UK)


Classica Magazine Award (France)



No. 23 Top 100 Sellers
TOWER RECORDS 2010

Best CDs of the Year 2010
Audiophile Audition

International Consensus
DISC OF THE MONTH
Classicstoday.com, Classicstodayfrance.com

Best CDs of 2010

W. Royal Stokes, frmr. Ed., Jazz Notes, JazzTimes, and Washington Post jazz critic


The Stereo Times Recording Gems for 2010


"THE RHAPSODY, 'I GOT RHYTHM VARIATIONS'...IS THE BEST OF THE BEST.
SO FRESH AND ALIVE!"


MICHAEL FEINSTEIN



"America's best and most knowledgeable Gershwin interpreter Steven Richman has revived the original sounds of the Whiteman Orchestra with suggestive and scary perfection. (A) fantastic journey of time, Steven Richman and his Harmonie Ensemble/New York do not only remind one of a perfect Collective in Music, but he captured the sound (zeitgeist) of an era. Gershwin has never sounded so authentic, so thrilling, so dangerously good.
Interpretation 100%
Editorial value 100%

BR Klassik, Bayerischen Rundfunk, Germany

MUSIC WEB INTERNATIONAL (UK)
RECORDING OF THE MONTH (Nov., 2010, 2nd time)

My favorite Gershwin album...a procession of miracles, delivered with exuberant enthusiasm. Should I mention particular delights? There are too many. Lincoln Mayorga...makes a glorious Gershwin player in "I Got Rhythm" and the "Rhapsody in Blue," and a sensitive, elegant accompanist. Never have this many details of the orchestration been audible. This album sounds terrific. (Al Gallodoro's) solo is new, and its playfulness is utterly unlike any other. And never, ever, has this music sounded so ecstatically like the fusion of two glorious sound-worlds into one new triumphant style. It is one of that tiny handful of records which actually makes life seem sunnier, which actually makes me a happier person. I put it on and I want to dance around the room. I guarantee - that by the end of this album, you will be smiling. Even my neighbors agree: it's the recording of the year!"

Brian Reinhart

MUSIC WEB INTERNATIONAL (UK)
RECORDING OF THE MONTH (Sept., 2010)

"I think we have something rather special here. (Rhapsody in Blue) I can't recall hearing the opening clarinet solo played with such panache before. A superb, fizzing account of the piece: the band plays with style, vitality and pungency while Mayorga is as good a soloist as you could wish to hear. The whole thing has the unmistakeable aura of the 'Roarin' Twenties' about it; I found it irresistible. Though the performance is particularly notable for its energy and sheer joie de vivre, the Big Tune is played for all it's worth too. This is one of the very best that I've heard ...arresting and hugely entertaining. Lincoln Mayorga is a superb, dashing soloist. Without exception the Gershwin show tunes are memorable...absolute classics of the genre... which feature a succession of superb instrumental solos. Steven Richman clearly has this music in his blood and he directs crisply and with evident affection for the music. The production values associated with this CD are superb. However, the disc does much more than this. The performances, though they wear their scholarship lightly, are every bit as historically informed as, say, a performance of a Handel concerto grosso on baroque instruments. As such, it adds greatly to our understanding and appreciation of Gershwin, that tragically short-lived genius. This is not only a mandatory purchase for all Gershwin fans but also should excite many other collectors."

John Quinn

"Gershwin enthusiasts are in for a real treat... These are, in many respects, ideal performances: while not live, they catch a moment on the fly, framing the performances within beautifully gauged tempos. The off-the-cuff playing so intrinsic to Gershwin is never lost... Gallodoro really struts his stuff with the clarinet flourish, setting you up for what's to come from the horns in this gleaming, tremendously extrovert performance... [In] Variations on 'I Got Rhythm'... The band swings like a bucket of miscreant rattle-snakes and the effect is elegant without sounding stuffy or over-produced. The same can be said of the arrangements, which spill over with humorous tomfoolery the like of which I am sure will thrill jazz enthusiasts every bit as those listening with a shirt and tie on... This is the most consistently pleasing recording I've heard this year, with Mayorga, Gallodoro and Richman coming over as formidable Gershwin exponents. Oh, and if you think you've already got as many versions of Rhapsody in Blue as your credit card can handle, think again."

Mark Tanner, INTERNATIONAL RECORD REVIEW

"It is as exciting to hear now in its original arrangements as it must have been for the celebrity audience first hearing it. Stripped of all the orchestral claptrap imposed later upon it, Rhapsody sounds fresh, invigorating, and exciting. I believe [it] is a definitive version of the piece, and the way you really ought to hear it - exuberant, joyous, much like what we in New York supposed it must have been almost 100 years ago. I felt like dancing. Boy, I did."

Harry Pearson, THE ABSOLUTE SOUND

"Throughout, Steven Richman, his ensemble and soloists perform with the youthful energy and charming nonchalance that Gershwin always brought to his work...an absolutely terrific program, one that does full justice to a repertoire too often abused. While avoiding mere imitation, Mayorga duplicates the heady sense of discovery, and the sheer joy in technical prowess, that were part of Gershwin's performance style. And he certainly knows how to swing, something others who assay this literature may talk about, but few come close to achieving. Gallodoro...plays with vigor, authority, and elegance. It is hard to credit these performances to a man in his tenth decade. Harmonie Ensemble/New York...mastered the style of a 1920s symphonic jazz orchestra for their first Grofé/Gershwin disc on Bridge. Now...they have further polished that style. The result is irresistible...the digital engineering recreates the sound of the ensemble with vivid realism. Simply put, this is great stuff, and not to be missed."

Ronald E. Grames, FANFARE

"This is the de-symphonized Gershwin disc we have been waiting for for a very, very long time. There has never been something like this before."

Christophe Huss, Classicstodayfrance.com

"...gives us the real thrill, and the true colors. New York in the 1920's, as if you were there!"

LeDevoir

FEELGOOD CD of the MONTH
"Skip to the end - Rhapsody in Blue - and you're assailed by a clarinet solo of such oomph and panache, the klezmer-like wailings sounding like a ghost from the past. It's startling, brilliant, and brings tears to the eyes. And then you read the sleeve notes and find out that the soloist Al Gallodoro was a member of the Paul Whiteman band in 1930s New York, the same ensemble which premiered the work in 1924. Sadly Gallodoro died two years after recording this account of the Rhapsody, aged 95. The piece is more often heard in the rather bloated full orchestral version orchestrated by Ferde Grofé, but here we get his original jazz band version. Leaner, meaner and tighter-sounding, it packs an effervescent punch here, helped by a close-up recording balance and some idiomatic banjo-twanging. There are so many moments where you want to jump up and cheer, my favourite being the lower brass chord change accompanying the violin solo after the big tune in the middle. This disc would be worth buying for the Rhapsody alone, but we also get original Paul Whiteman Orchestra versions of Gershwin standards, and the composer's own orchestration of the quirky, underrated "I Got Rhythm" Variations. Playing and direction are faultless, with marvellous piano playing from Lincoln Mayorga. As a novelty bonus, one track is duplicated, recorded on a 1909 Edison wax cylinder."

Graham Rickson, Barbican The Arts Desk (England)

5 STARS
"The contribution of Steven Richman's Harmonie Ensemble/New York is a delight: beautifully recorded, crisply played, and stylistically spot-on. The Rhapsody is graced by the authoritative presence of clarinetist and saxophonist Al Gallodoro. Gallodoro and Mayorga also duet inventively on 'Summertime'. A fascinating and hugely enjoyable disc."

— Anthony Burton, BBC MUSIC MAGAZINE

"Certainly an 'ear opener'!... the most stylishly accurate recording of Gershwin's Symphonic Jazz ever produced in a modern recording. Steven Richman's total grasp and comprehension of Gershwin's intent causes the music to come alive in a manner seldom encountered in performance, let alone a recording. The Harmonie Ensemble/New York performs with great virtuosity and joy of the music, that is both captivating and revealing.
The original scoring for the Whiteman Band is much "jazzier" and far more entertaining. Pianist Lincoln Mayorga plays it with all of the verve and panache the concerto requires, as does the Harmonie Ensemble/New York...absolutely amazing playing of ninety-three year old reedman Al Gallodoro, an original member of the Whiteman Band. His playing of the extremely difficult opening clarinet cadenza...can hardly be equaled. He established the standard and has set it for years to come.
...demonstrates how perfectly accurate[ly] Steven Richman has captured the original performance style of this very special music....the sonics of the recording are simply spectacular. If you are an admirer of Gershwin's music or a jazz enthusiast in general, you cannot pass this recording by. This is an absolute 'must have'!"

Micaele Sparacino, ConcertoNet.com

"A smash! Richman and his gleaming players recreate the sounds that audiences in the 1920s and '30s would have savoured. The performances are shaped with vivacity and precision. Richman and company nail the style..."

Donald Rosenberg, Gramophone (England)

"This is a wonderful disc in every respect. Paul Whiteman clarinet/sax player Al Gallodoro... rocks, plain and simple. Lincoln Mayorga... gives the music an easy elegance and sophistication... Steven Richman has assembled (and conducts) a splendid program that more than justifies buying yet another recording of the two concertante chestnuts. Go for it."

David Hurwitz, Classicstoday.com

"Terrific, brilliant, very affecting... the CD is a beaut, worthy of a Grammy!"

Martin Bookspan
"The Voice of the New York Philharmonic"

"A masterful achievement in that it feels absolutely right on every level: performance, sound, interpretation and overall grasp of the genre. Truly I enjoyed it so much... it sounded so fresh. Thanks for your dedication to this music!"

Michael Feinstein

"My most exciting recent discovery while browsing the Amazon website has been the album Gershwin by Grofé performed by the New York Harmonie Ensemble conducted by Steven Richman. Never before have I heard the 1920s so authentically brought to life in brilliant sound quality. It is evident from Steve's other recordings of Copland, Dvorák and Stravinsky with his Harmonie Ensemble/New York that he is right at home in the worlds of jazz and classics, proving in a way that these are artificial categories and that he knows good music when he hears it."

Michael Gilchrist, Australia
Read the entire review at Amazon.com >>>

"If you've never heard Gershwin's "Rhapsody in Blue" as the world first heard it, in the raucous jazzy version first performed by the Paul Whiteman orchestra in 1924, you need to get this CD. There are others available, but this one has the razzle-dazzle of Gershwin's genius in every measure. This recording is clearly a labor of love for Richman...His music lives."

Jay Furst, Post-Bulletin, Rochester, MN

"Steven Richman takes his ensemble to that place where classical art meets popular entertainment and navigates smoothly and confidently through those choppy waters. In other words, these are classy performances, performed by technically dexterous musicians, but the end result is pure fun. You might want to dance to Ferde Grofé's takes on Gershwin's tunes, but you find you'd rather listen because the arrangements are just too interesting. Grofé, after all, is the orchestrator responsible for the twenty-six-year-old Gershwin's Rhapsody in Blue, He was, as they say, "present at the creation." The CD also benefits from a master clarinetist straight from the Gershwin era, the late Al Gallodoro, whose rich sound and whose swinging, seemingly effortless improvisations are on display here. An instructive novelty are two recordings of an early Gershwin song, Yankee Doodle Blues, one is done "straight," the other on an Edison cylinder machine which has been lovingly preserved. But the lion's share of the credit must ultimately go to Richman, whose relaxed tempos allow the tunes to breathe. His love for, and great knowledge of, the era are evident in every aspect of this recording, including the extensive liner notes. Art and entertainment have met on this CD, and the winner is... music."

James Roberts, Composer/Pianist
Read the entire review at Amazon.com >>>

One heck of a Rhapsody in Blue Rendition
"I own many versions of Rhapsody in Blue, but this one is the most electrifying of all. It sizzles with excitement & just when I thought I only liked full orchestra renditions, this one tops them all. The recording is wonderful, & arrangements for the balance of the cd are very special. From I Got Rhythm Variations to Somebody Loves Me to Summertime, this disc shows why Gershwin truly was one of the greatest composers of all time. Buy it & enjoy music that is timeless."

Amazon.com

"(A) joyous recording...a dancing, whirlwind version of "Rhapsody in Blue." (A) fabulous cabaret of sight and sound. This repository of Americana is a feast for the ears."

The Stereo Times Recording Gems for 2010



Symphonic Jazz: Ferde Grofé and George Gershwin - Original Paul Whiteman Orchestra Versions & Premieres
Bridge Records CD 9212

Soloists: Al Gallodoro, saxophone. This legendary 91-year old sax virtuoso soloed with Whiteman for 30 years and was termed "the best saxophone player who ever lived!" by Jimmy Dorsey. Lincoln Mayorga, piano

Grofé: Grand Canyon Suite, first complete American recording of original Whiteman Orchestra version
Grofé: Mississippi Suite, first complete American recording of original version
Grofé: Gallodoro's Serenade for Saxophone and Piano, premiere recording
Gershwin: Second Rhapsody for Orchestra with Piano (arr. Grofé), premiere recording


"It's just GREAT!!! My father would be so proud of your accomplishment ... wondrous clarity and outstanding musicianship. My most profound congratulations to you and your fellow artists in this great work. Your rendition is flawless. I hope many will have the opportunity to hear this extraordinary performance. You've achieved a milestone and on behalf of my Father I repeat the congratulations with gusto! BRAVO!"


Ferde Grofé, Jr.

"Delightful and ear-opening. The Second Rhapsody sounds remarkably light and sassy (with) greater coherence and flow, aided by Lincoln Mayorga's elegant playing and Steven Richman's idiomatic and alert conducting. Grand Canyon Suite (has) sheer charm, and the music sounds somehow more modern, less dated. The sonics are terrific, while Richman and the Harmonie Ensemble/New York deserve lots of credit for digging up these arrangements and bringing them back to life with such gusto and polish."


David Hurwitz, Classicstoday.com



Hommage à Stravinsky: Histoire Du Soldat, 4 Premieres and Rarities
Koch International Classics 7438

Grammy Award Nomination, 2002

Soloists: Mark Peskanov, violin; Lucy Shelton, soprano; Martin Bruns, baritone; Mikhail Svetlov, bass; Doris Stevenson, piano

Suite: Histoire du Soldat (The Soldier's Tale)
Octet for Wind Instruments
Pribaoutki for Soprano and 8 Instruments
Lied ohne Name for 2 bassoons
How the Mushrooms Went to War (bass voice and piano), premiere recording
Tango for Violin and Piano, premiere recording
La Marseillaise for Solo Violin, premiere recording
Petit Ramusianum Harmonique (Hommage à C.F. Ramuz) (baritone solo), premiere recording
Pastorale for Violin and Winds
Fanfare for a New Theater

"The Pastorale is as supple and tender a performance as has ever been recorded. The two big works (Histoire and Octet) are among the best performances of the works in existence."


James Leonard, All Music Guide

"The now familiar Octet for wind instruments is so well played here that the disc is worth owning for the performance of this work alone ... Although the ensemble - expertly led by Steven Richman - plays with exceptional precision throughout, the performers never lose sight of the music's soul and spirit, allowing for interpretations of both the Octet and the Histoire suite that are faithful to the score but never precious or dry."


Daniel Felsenfeld, Classicstoday.com

"... a varied program, wonderfully conducted and performed. Everything is clear and spontaneous, judiciously paced, clearly textured. A prime Stravinsky program (with) delightful surprises. Evocative, texturally lucid readings under the baton of Steven Richman, who is unerring in defining the folk elements and the quirky rhythmic shapes. A marvelous achievement."


Donald Rosenberg, Cleveland Plain Dealer

"Richman leads a lively, engaging and often humorous account of the Octet. Each player in the Harmonie Ensemble/New York is clearly a virtuoso, and they bring welcome variety of colors and moods to this music. The lumbering bassoons are a pure delight. In Histoire the playing is lithe, athletic and effortless."


Tom Godell, American Record Guide

"Wonderful, a fine effort, really a great recording. I have enjoyed it immensely!"


John Stravinsky, grandson of the composer



Copland: Rarities and Masterpieces
Bridge Records CD 9145

Classical Internet Award: Best Orchestral Music CD 2004 (International Critics' Panel)
Classical Recording Foundation Award Carnegie Hall

Featured in the Ken Burns PBS-TV series "The National Parks", episode 4, "Going Home".

Soloists: Emerson String Quartet members: Eugene Drucker, violin; Lawrence Dutton, viola.
With Diane Walsh, piano

Appalachian Spring Suite (original 13 instrument version)
Music for the Theatre for Chamber Orchestra
2 Ballads for Violin and Piano, premiere recording
Elegies for Violin and Viola
El Salón México, arranged for solo piano by ARTURO TOSCANINI, premiere recording


"What a delightful, refreshing release! Simply sensational! This recording goes straight to the top of the list! Fantastic."


ClassicsToday.com

"A reference version of the Appalachian Spring Suite in its original chamber version."


HI-FI+

"Classical CD of the Week. Both [Appalachian Spring and Music for the Theatre] are superbly performed on this historic disc!"


The London Observer

"Hearing 'Music for the Theatre' played by an ensemble that conceivably could squeeze into a theatre pit is a pleasure! Here, it is both raunchy and naïve - surely what Copland had in mind! Next to this, Bernstein's well-liked recording lacks nuance."


International Record Review (England)

"... beautiful chamber playing under Steven Richman, who worked with Copland in the last decade of Copland's life, and the Harmonie Ensemble/New York, in a recording that is a total winner ..."


Diverdi 128, Boletin de Información Discográfica (Spain)



Dvorák Day Concert
Music & Arts CD 1078

Dvorák Festival Orchestra of New York; Steven Richman, conductor; JOSEF SUK, violin (Dvorák's great-grandson); Lincoln Mayorga, piano
(Masterpieces recorded in St. George's Church, New York City, across the street from where they were composed)

Dvorák: Symphony No. 9 ("From the New World")
(Iveta Bachmannová, English horn -
Prague Symphony Orchestra)
Sonatina for Violin and Piano, Op. 100
Humoresque in G-flat major, Op. 101, No. 7 (arr. Kreisler for Violin and Piano)
Fanfare for the 1891 Prague Exposition
Harry Burleigh (Dvorák's assistant): Orchestral arrangement of "Deep River," Spiritual from Jubilee Songs, premiere recording


"One of the two or three best 'New World' Symphony recordings I have ever heard!"


Martin Bookspan, 'The Voice of the New York Philharmonic'

"... beautifully recorded, spiritedly played, and a delight from start to finish. ... (played with) an appealing combination of zip, refinement, enthusiasm and sheer love."


Justin R. Herman, American Record Guide

"Dvorák Day was one of the greatest days of my life. Steven Richman's performance of the "New World" Symphony was fantastic!"

Violinist Josef Suk, Dvorák's great-grandson



Dvorák Discoveries
Music & Arts CD 926

New York Times Dvorák Centennial Favorite CDs 2004

Harry T. Burleigh (Dvorák's assistant), baritone
The Collegiate Chorale; Arthur Woodley, bass-baritone

Dvorák: Octet-Serenade (original version of String Serenade, for clarinet, horn, bassoon, 2 violins, viola, bass and piano), World Premiere Performance
Terzetto for 2 Violins and Viola (Richard Rood, Katsuko Esaki, violins; Nardo Poy, viola)
"Old Folks at Home" (Stephen Foster) arranged by Dvorák for Solo, Chorus and Orchestra, premiere recording
"Go Down, Moses" (trad.): Harry Burleigh, baritone (recorded 1919)


"Steven Richman's recording of an early Octet version of the String Serenade on 'Dvorák Discoveries' is a particular delight."


James Oestreich, Music Editor, New York Times

"A beautiful performance. Wonderful, I enjoyed it immensely. A rave!"


First Hearing, WQXR-FM New York, syndicated nationally



Overture!
Historic transcriptions for classical wind ensemble
Music & Arts CD 797

Rossini: Barber of Seville, William Tell, Semiramide
Beethoven: Fidelio
Weber: Der Freischütz
Mozart: Abduction from the Seraglio

"Excellent, fascinating ... clever, well played"


Lloyd Schwartz, Fresh Air, National Public Radio

"Perfect, simply superb ... elegant, entertaining."


Fanfare



Dvorák and Friends Czech Wind Music
Music and Arts CD 691

Soloists: Charles Kavalovski, principal horn, Boston Symphony Orchestra
Scott Brubaker, horn, Metropolitan Opera Orchestra of New York

Dvorák: Serenade in d minor for Winds, Cello and Bass, Op. 44; Slavonic Dance, Op. 72, No. 7
Franz Krommer (Kramár): Concerto in E-flat for 2 Horns and Wind Instruments, premiere recording
Josef Myslivecek: Octet No. 2 for Winds in E-flat, CD Premiere

"The playing of Harmonie Ensemble/New York conducted by Steven Richman is beyond praise; an excellent recording."


Gramophone (England)

"The best recording of the Dvorák Serenade I have ever heard!"


Richard Glasford, Programming Director, Music Choice

"First place in its class!"


Fanfare Magazine



Salute To France
Five rarely heard French works for small orchestra
Music & Arts CD 649

Soloists: Ralph Votapek, piano (1st winner of Van Cliburn Competition) James Kreger, cello (Tchaikovsky Competition winner)

Poulenc: Aubade, Concerto for Piano and 18 Instruments
Jacques Ibert: Symphonic Suite ("Paris") for chamber orchestra; Concerto for Cello and Wind Instruments
Reynaldo Hahn: Le bal de Béatrice d'Este
Milhaud: Symphony No. 5 for 10 Wind Instruments


"Remarkable, fresh, with great style and class. For us the French, certainly an object lesson."


Repertoire, France

"The best performance of the Poulenc I have ever heard, including Poulenc's. Superbly performed and splendidly recorded."


C.J. Luten, Opera News